JRF Signs Agreement With The Four Seasons Amman In Support Of Community Empowerment
20 Apr, 2017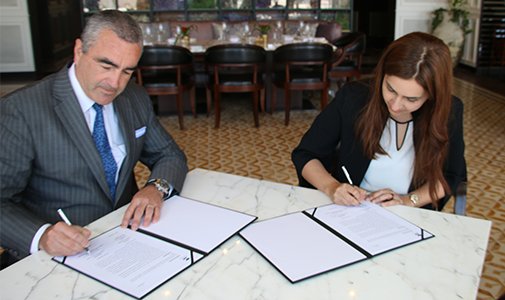 The Jordan River Foundation (JRF) has signed an agreement with the Four Seasons Amman hotel today in support of its community development initiatives, which help in creating economic opportunities for Jordanian women, ultimately increasing their financial independence.
The signing, which took place at the Four Seasons Amman hotel, saw the attendance of 15 representatives from both entities. Signing on behalf of JRF was Director General Enaam Barrishi, and on behalf of the Four Seasons Amman was Regional Vice President & General Manager Vincent Hoogewijs
This partnership will see the Four Seasons support JRF in creating economic opportunities for members of the Jordanian community, namely women, and helping enhance their position in society, as well as improve their livelihoods and achieve overall economic empowerment.
JRF Director General, Enaam Barrishi commended this partnership with the Four Seasons Hotel Amman, saying "the Four Seasons was instrumental in the success many JRF initiatives, Its continuous support to our work means we can achieve more, and reach more beneficiaries in remote communities. It lends us a helping hand in raising awareness about JRF's core mission: creating sustainable livelihoods for Jordanian communities."
Sharif Hayek, General Manager, La Capitale said: "La Capitale is committed to being a responsible and caring community partner by supporting the Jordan River Foundation's programs that encourage community empowerment work in Jordan. Through this partnership, La Capitale will support JRF's mission to help Jordanians realize their full economic potential and overcome social challenges. In March, we dedicated all our support towards women focused empowerment programs by adding JD1 to guests' bills, while we matched the donation per table at the end of the month. We appreciate everyone's contribution and support and i believe that all together, we can make a lasting impression on our local community. "
The partnerships JRF made with private-sector entities not only serve to financially support programs that create sustainable livelihoods for Jordanian communities, but they are also instrumental in showcasing the wide array of activities that JRF has on offer to realize that goal, and how each and every one in Jordan can contribute to making a real difference in the lives of women, children, and youth.
About the Jordan River Foundation
Established in 1995, the Jordan River Foundation (JRF) has been a major player in Jordanian community development, bringing forth over 20 years of experience to local community development, and supporting homegrown solutions that engage communities and address local challenges.