Queen Attends Jordan River Foundation Charity Gala
13 Nov, 2016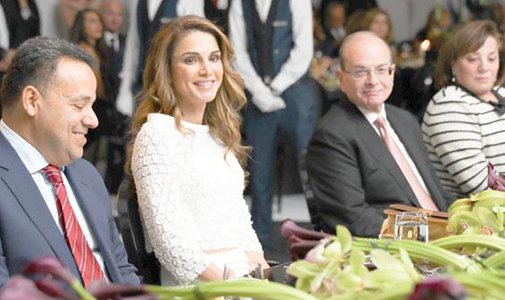 Her Majesty Queen Rania on Sunday attended a gala benefit dinner hosted by the Jordan River Foundation (JRF) to support its Child Safety Program (CSP) and raise awareness about child abuse issues in Jordan.
Queen Rania, who is JRF's founder and chairperson, joined more than 500 guests representing the donor community and the private sector at the benefit dinner held at the Four Seasons Hotel in Amman, according to a statement from Her Majesty's office.
"JRF's continuous efforts to break the stigma associated with reporting and addressing cases of child abuse were demonstrated to the audience in a powerful video about child protection during the event," the statement said.
Speaking at the event, JRF Director General Enaam Barrishi emphasised the importance of the role each member of society plays in combating abuse and promoting a safe environment for children in Jordan.
"Today, we celebrate the successes we have achieved in combating abuse and promoting child safety. However, we still have a long way to go," Barrishi said.
"We can start today by each one of you committing to join me in breaking the silence on child abuse in all shapes and forms, and speaking against it," she added.
Barrishi also thanked Queen Rania for her leadership in establishing JRF's CSP and for being the first to break social taboos about addressing child abuse outside the home.
She concluded by expressing her gratitude for the benefit's key sponsors.
The evening also featured a musical performance by award-winning Lebanese-Armenian musician, composer and pianist Guy Manoukian.
The CSP was launched in 1997 just two years after Her Majesty established the foundation.
JRF has so far helped improve the lives of over 200,000 children and parents through child abuse prevention and intervention support services, according to the statement.
The foundation adopts a "holistic model that encourages the genuine participation and engagement of all stakeholders working with children, by addressing issues on three fronts: awareness, prevention and intervention",
it added.
"Today, the JRF's CSP experience and expertise reflect a model for child protection and safety efforts in the Middle East," the statement said, adding that it blends "cultural appropriateness" with international best practices, informed by evidence-based research.