Queen Calls For Adapting JRF Projects To Local Community Needs
29 Aug, 2016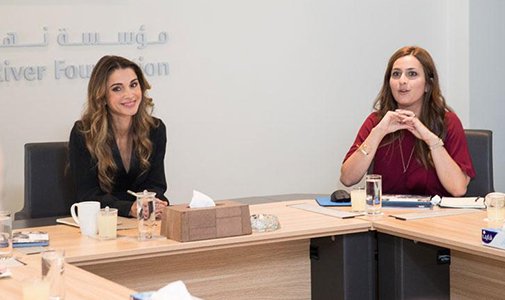 Her Majesty Queen Rania chaired the Jordan River Foundation (JRF) Board of Trustees' annual meeting on Monday to discuss the foundation's strategy and the future programmes it plans to implement across the Kingdom this year.
At the meeting, JRF Director General Enaam Barrishi gave a presentation on the foundation's latest achievements and most important development projects carried out this year, according to a statement from Her Majesty's office.
Queen Rania highlighted the importance of continuously adapting development projects to the needs of local communities and beneficiaries, while also building on previous projects instituted since the foundation's inception.
Barrishi explained that the foundation is working with beneficiaries and partners to achieve the highest levels of efficiency in each JRF project across the Kingdom.
Board members who attended the meeting include Amin Khleifat, Suzanne Afanah, Nawal Faouri, and Sa'ed Karajah, Omar Razzaz, Tarik Awad, Khalid Nahhas, and Reem Goussous Fakhoury.
The JRF is a non-governmental organization established by Her Majesty in 1995 dedicated to community empowerment and child safety.
The foundation's work aims to empower the whole of the Jordanian community, by creating projects that generate income for families to improve their livelihoods and their social and economic well-being, according to the statement.
Through the foundation's Training and Consultancy Services Unit, thousands of men and women have benefited from training, mentoring and capacity building, the statement added.