Queen Visits QRFCC's Interactive Programs For Child And Family Welfare
29 Aug, 2016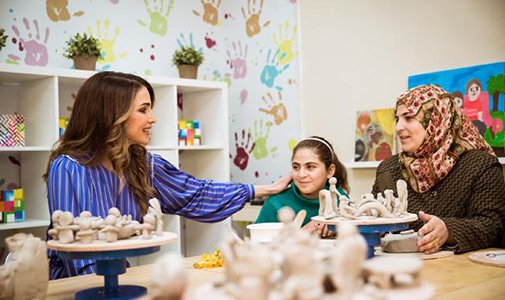 Her Majesty Queen Rania on Tuesday visited, the Queen Rania Family and Child Centre's (QRFCC) newest interactive programs for child and family welfare in Jordan.
Her Majesty was welcomed by Enaam Barishi, director general of the Jordan River Foundation (JRF), and Ghada Abu Al Rous, QRFCC's manager.
The Queen's first tour stop was "Beit Sgheer", or "My Little Home", a simulated home environment that includes a kitchen, a bathroom, a bedroom, a living room, a garden and a "feelings" room.
The team at QRFCC explained that the program aims to teach children and families about concepts of child abuse prevention through hands-on activities, according to a statement from Her Majesty's office.
The Queen was introduced to the Power of Art program, which offers interactive art projects including pottery, drawing and puppet making to help raise its participants' awareness on child safety. Parents often partake in some of the program's sessions.
The Queen then joined several Syrian refugee families and listened to the mother's recount how art has helped them and their children communicate more effectively and develop new skills.
Barishi and Abu Al Rous guided the Queen through the center's Green House Corner, which hosts joint activities for children and parents to help improve their self-esteem with a variety of gardening and planting activities.
The space is also used for children to apply the social and financial literacy skills they have built through the international financial literacy project, "Aflatoun".
Her Majesty's last stop was at Al Karma Kitchen, the center's newest branch, established in March of this year for the purpose of providing economic empowerment opportunities for women.
The Queen Rania Family and Child Centre is a community center established in 2005 under the Jordan River Foundation's Child and Safety Program. The center currently offers child protection activities targeting areas with more than 250,000 inhabitants mainly from Jordanian, Palestinian and Syrian origins.
Today the center offers holistic services that aim to combat child abuse and strengthen families across Jordan. It also works on spreading awareness on child protection and strengthening family dynamics in order to create safer environments for children.
The Jordan River Foundation has also been working since 1997 to ensure the proper implementation of child rights and the reinforcement of appropriate child-rearing methods within families in Jordan.