Art Exhibition Celebrates Empowerment Journeys of Women
05 Dec, 2021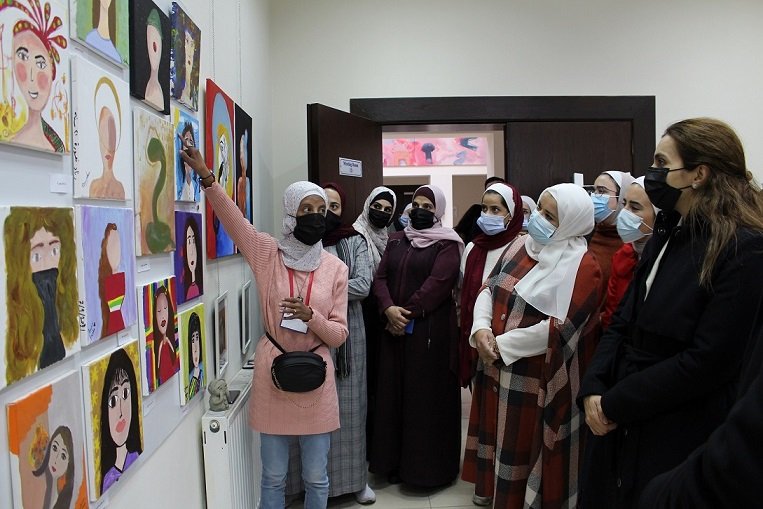 AMMAN – JRF held an art exhibition for a group of community women at the Queen Rania Family and Child Center celebrating the artworks of the "She Leads" project beneficiaries.
The exhibition showcased paintings, clay sculptures, and ceramic pendants handcrafted by 113 female beneficiaries (women and girls) following a series of sessions held under the "Power of Art" program.
"Power of Art", held under the Jordan River Child Safety Program, offers interactive activities designed to empower girls and women psychologically and socially through expressive art, which in turn helps them address personal and social challenges.
"When it comes to understanding who you are, you never really find answers from people you seek advice from. Answers come from within, that's the power of expressive art. It rekindled my self confidence and my ability to deal with stress and challenges," points one participant.
Launched in 1997, the Jordan River Child Safety Program (JRCSP) is the result of Her Majesty Queen Rania Al Abdullah's relentless efforts to place the welfare of children and families at the forefront of national policy agendas. The program aims to promote protection and safety for women and children, and enhance positive child rearing practices by approaching the family as a whole unit.
from
The program works in two areas: intervention through rehabilitation services, and prevention; offering comprehensive services that protect women and children's rights and promote a culture of sound parenting and child safety in Jordan.
"She Leads" is implemented by JRF as part of a coalition of international and national organizations working in women empowerment.
The exhibition runs from 1 to 5 December, 2 - 4 pm.