JRF, Canadian Government, MEDA launch new project supporting credit & loan groups across Jordan Valley
12 Nov, 2018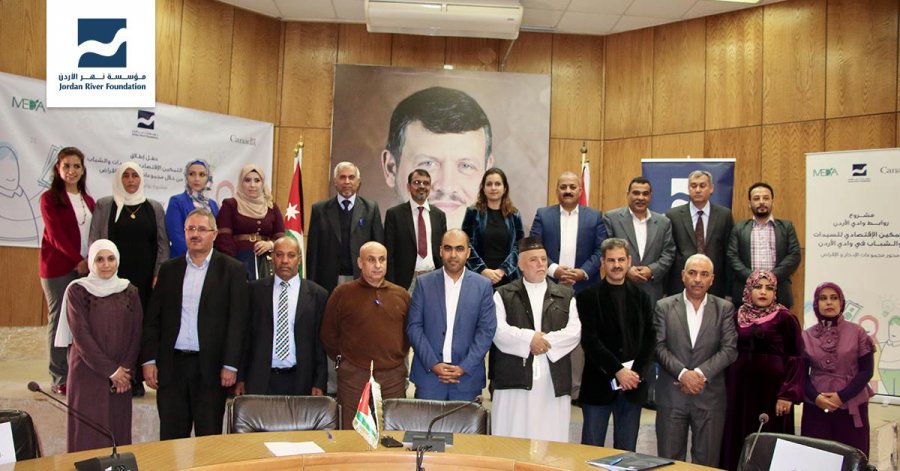 In line with its strategy to increase access to finance for women and youth across Jordan's local communities, the Jordan River Foundation (JRF) has announced the launch of a 2-year project funded by MEDA (Mennonite Economic Development Associates) and Global Affairs Canada.
The Jordan Valley Links Project aims to offer women and youth across four Jordan Valley governorates access to credit and loans to support their entrepreneurial potential and create sustainable livelihoods. The project will primarily focus on economic empowerment through access to credit and loan groups for local communities in the Jordan Valley, including Irbid, Karak, Ajloun, and Jarash.
"Our partnership with the Canadian Government and MEDA will help us further advance our reach and scope in helping women and youth improve their livelihoods and entrepreneurial potential by offering access to financial services revolving around saving and loan groups," stated JRF's Director General Enaam Barrishi. "We aim to empower 5,000 women and youth through the establishment of 250 Savings and Loan Groups across the Jordan Valley area; impacting over 2000 families," added Barrishi.
JRF's role will revolve around utilizing its experience in community mobilization and established network of over 800 community-based organizations (CBOs) across Jordan to promote the practice of savings and loan groups in the Jordan Valley. The Foundation will work with 25 qualified CBOs and 50 field mentors to develop community outreach, mobilization, and support programs and services.
"Our goal is to provide access to finance and make credit more readily available to those women and youth who will eventually contribute to Jordan's economic growth," said MEDA's Country Project Director, Helal Ahsan-Ul-Haque. "We value the partnerships we have with Jordanian organizations like JRF who are able to reach women and youth and help us and Global Affairs Canada reach our targets of improving women and youth's entrepreneurial and business acumen and reducing barriers for them to enter the labor market," added Ul-Haque.
The signing ceremony was attended by JRF's Director General, MEDA's Country Project Director, the Governor of Irbid, along with several public sector partners, CBOs, and beneficiaries.