JRF, Chinese Embassy sign agreement to support social enterprises
28 Feb, 2022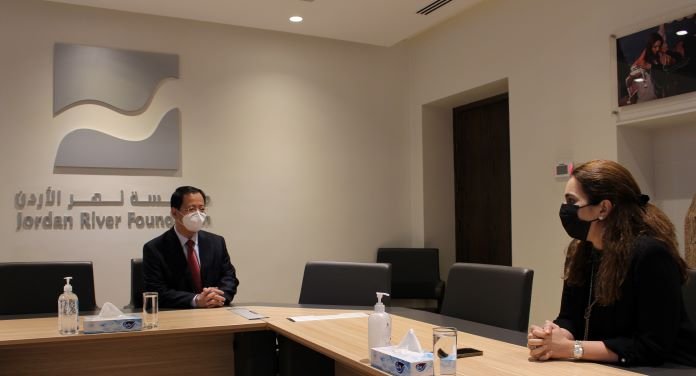 Amman, March 2 (Petra) -- The Jordan River Foundation (JRF) has signed an agreement with the Embassy of the People's Republic of China supporting the foundation's social enterprises for the empowerment of community women.

A statement by the JRF on Wednesday said that the agreement includes vehicle donations for Al Karma Kitchen; supporting community women who rely on home cooking for a living, and the Jordan River Designs (JRD); a handicrafts project reviving traditional community arts supporting the livelihoods of women artisans.

"China's donations will support sales operations at the kitchen and JRD, which in turn will support the kitchen's 146 beneficiaries and JRD's 106 artisans empowered by JRF last year" the statement added.

During the signing ceremony, JRF's General Director Enaam Barrishi thanked the Embassy for its generous support, pointing that it will help support the foundation's expansion plan for the kitchen, which in turn would increase the number of beneficiaries and sustain JRF's social impact.

"The kitchen is one of the social enterprises that feeds into the whole economic empowerment model of JRF. JRF applies community empowerment across all sectors in Jordan, in partnership with community-based organizations. We have established a long-term relationship with local communities to create sustainable livelihood opportunities by supporting microbusinesses and recruiting beneficiaries in partnership with the private sector, as well as equipping beneficiaries with the required vocational and technical skills," adds Barrishi.

For his part, Chinese Ambassador Chen Chuandong said that China's continuous support of JRF stems from its appreciation of her Majesty Queen Rania's community empowerment efforts; expressing its keen interest and readiness to work further with Jordan through the foundation by implementing social and economic development projects designed to support the socio-economic well-being of Jordanians, especially women.

"We believe that empowering women is very important because we know that mothers are the key to the success and wellbeing of the family and the whole community. Through our partnership we will connect JRF with several organizations in China that are focusing on building the capacities of women," notes Chuandong.