JRF, Citibank Hold "2017 Citi Micro-Entrepreneurship Awards Ceremony"
28 Mar, 2018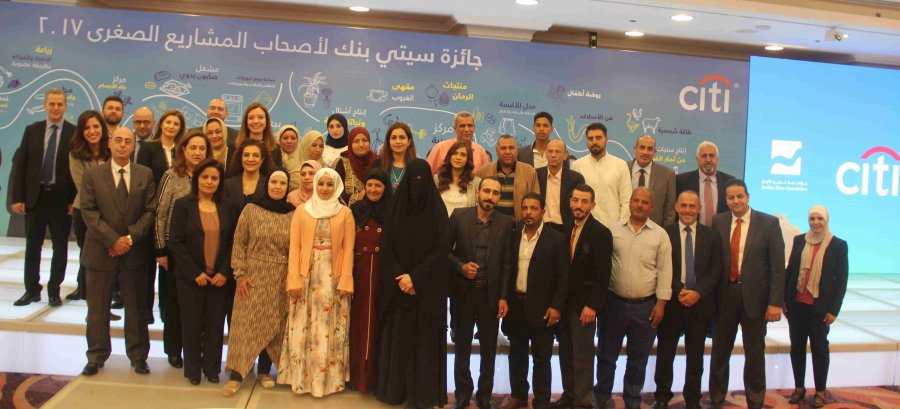 Citibank Jordan and the Jordan River Foundation (JRF) held the 12th "Citi Micro-Entrepreneurship Awards" Ceremony, recognizing the innovations of 20 entrepreneurs, and their contributions to the economic sustainability of their families and communities.
Winners, representing an array of industries including trade, services, agriculture, tourism, and green energy, were awarded Citibank grants to help develop and expand their projects. Implemented by the Citi Foundation, the Citi Micro-Entrepreneurship Awards Program aims to strengthen the effective role of microfinance in alleviating poverty worldwide. The program seeks to create awareness and appreciation of the active contributions of individual micro entrepreneurship projects.

"We are proud to support entrepreneurs and their families by empowering them, and future generations to come, to leverage their projects, overcome obstacles, and turn their ventures into impact-driven achievements," stated Nour Jarrar, CEO of Citibank Jordan. "Over the past 12 years, JRF has been instrumental in supporting micro entrepreneurs and turning their projects into success stories," Jarrar added. "Today, we honor the innovative spirit and willpower of 20 micro entrepreneurs whose projects have impacted their communities and created sustainable income for their families, across an array of industries: including food production, sports, education and agriculture," said Enaam Barrishi, Director General of JRF.
"Entrepreneurship is no longer an option, it is a lifeline, the only way we could empower communities is through innovative economic and social endeavors that would enable us to build a future of sustainable growth and equal opportunities," pointed Barrishi. Barrishi commended the efforts of the National Committee implementing the award program and the continuous support of the Citi Foundation in launching and sponsoring the award for the past 12 years, which tremendously contributed to the empowerment and livelihoods of entrepreneurs all across the Kingdom.
Since the launch of the awards in 2005, which recognized the achievements of 274 entrepreneurs so far, JRF has been offering turn-key management support; liaising with nominees, recommended by a number of MFIs and lending institutions. JRF has also formed a national selection committee consisting of individuals from governmental, non-governmental and private sector institutions. Selection criteria is based on measuring both the entrepreneurial potential and income levels of future entrepreneurs and business visionaries. For the past 12 years, JRF has been facilitating nominations, press campaigns and an annual awards ceremony.
In addition to awarding the winners, Jarrar and Barrishi honored members of the National Committee, in recognition for their efforts and support for the past 12 years.