JRF, JEDCO Sign Agreement to Boost Rural Development across Five Governorates
12 Mar, 2018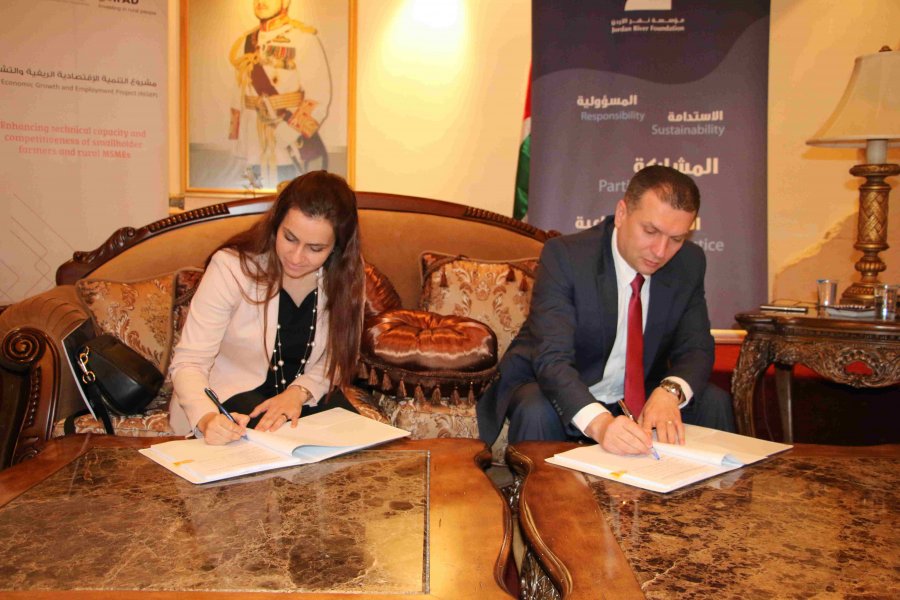 The Jordan River Foundation signed an agreement with the Jordan Enterprise Development Corporation (JEDCO) under the "Rural Economic Growth and Employment Project" (REGEP), funded by the International Fund for Agricultural Development (IFAD). The agreement was signed following the completion of the program's first phase, which included activities implemented by JRF and JEDCO within two main pillars: "The Development and Support of Saving and Credit Groups and Associations", as well as "The Business Mentoring and Marketing and Specific Training for Farmer Groups and Associations".
"REGEP aims to develop agricultural projects to integrate small-scale farmers in value chains and improve their opportunities to access needed funding across rural areas. It also seeks to improve their capacity building and competitiveness," said Maher Al Mahrouq, JEDCO's CEO.
Mahrouq stated that JRF has worked to implement the activities of development and support for small agricultural projects by developing training manuals and conducting awareness sessions. JRF also selected several participants to establish 117 saving groups following a series of capacity building, training and project management programs.
"Seventy of the agreements were granted to groups and 30 were granted to individuals; supporting productive agricultural projects across the governorates of Balqa, Ajloun, Jerash, Mafraq and Madaba," Mahrouq explained, noting that the grants amount to a total value of $250,000.
JRF's Director General Enaam Barrishi stressed the foundation's commitment to empower beneficiaries by capitalizing on opportunities to establish viable enterprises that contribute to local and national economic development in partnership with JEDCO.