Queen Rania chairs Jordan River Foundation's annual Board of Trustees meeting
05 Nov, 2018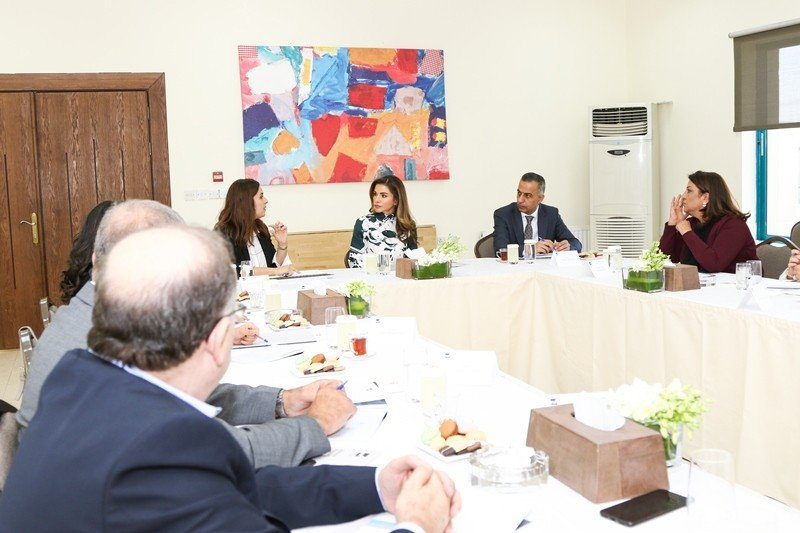 Her Majesty Queen Rania Al Abdullah chaired the annual meeting of the Jordan River Foundation (JRF) Board of Trustees, which discussed the foundation's major achievements this year and its strategy for the next.
Held at the Queen Rania Family and Child Center (QRFCC) in Jabal al Nasr, the board meeting began with a presentation by JRF Director General, Enaam Barrishi, who updated Her Majesty on the progress of the foundation's key programs: the Jordan River Community Empowerment Program (JRCEP), the Jordan River Child Safety Program (JRCSP), and Jordan River Designs.
In 2018, JRF implemented a number of initiatives aiming to increase employment among its beneficiaries, partnering with local and international organizations to support the launch of hundreds of income-generating micro and small enterprises in Jordan.
The meeting also addressed the status of JRF's various handicrafts projects, including the foundation's recent partnership with IKEA, which has created jobs for Jordanian women and Syrian refugees. Barrishi also shared JRF's expansion plans for 2019, under which the foundation aims to extend its community empowerment and child safety programs across the Kingdom.
Following the meeting, the Queen visited Al Karma Kitchen, where she met with a number of full-time female chefs trained by JRF. Established in 2006, Al Karma Kitchen offers a wide variety of catering services and food products, generating unique economic opportunities for the women of East Amman.
Al Karma Kitchen was recently relocated from Jabal al Natheef to a larger facility in Jabal al Nasr to accommodate its expanding product lines and increased production volume. The Kitchen's offerings now include 11 authentic Arab frozen food items, sold at select stores across Amman.
Established by Her Majesty in 1995, JRF is a non-profit, non-governmental organization with a focus on child safety and community empowerment. Contributing to social justice, alleviating poverty, and socio-economic empowerment, especially among women and youth, JRF provides homegrown solutions to some of Jordan's most pressing economic challenges.