Queen Rania joins Sweden monarchs at Jordanian-IKEA partnership meeting
17 Nov, 2022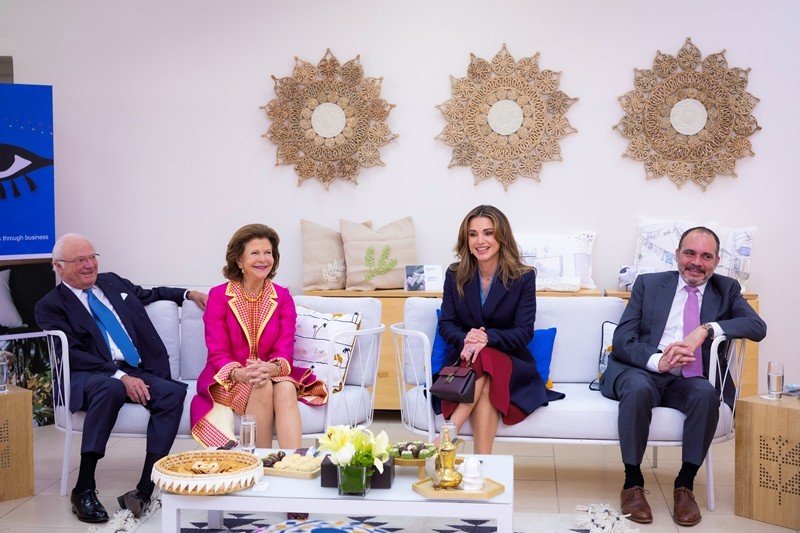 Her Majesty Queen Rania Al Abdullah joined Their Majesties King Carl XVI Gustaf and Queen Silvia of Sweden at a meeting on Tuesday with representatives from the Jordan River Foundation (JRF) and Swedish furniture conglomerate IKEA, to discuss an ongoing partnership putting Jordanian-made products on IKEA shelves around the world.

Held at the Queen Rania Family and Child Center (QRFCC) in east Amman, the meeting was also attended by Their Royal Highnesses Prince Ali bin Al Hussein, the escort of honor, and Princess Rym Ali, as well as Swedish Minister of Foreign Affairs Tobias Billstr?m.

The King and Queen of Sweden are currently in Jordan at the invitation of His Majesty King Abdullah II for a three-day state visit, which aims to strengthen the deep-rooted, historic ties of friendship between Jordan and Sweden.

During the meeting, JRF Director General Enaam Barrishi and IKEA New Business and Innovation Project Leader Cristiana Serbanescu explained how the JRF-IKEA partnership aims to empower Jordanian and refugee women through sustainable employment.

Forged in 2017, the first-of-its-kind partnership began by employing less than 100 women in Jordan to handcraft 45,000 pieces for a limited edition collection of textiles inspired by Jordanian culture, titled "Tilltalande." Today, it employs approximately 420 Jordanian and Syrian refugee women, who create more than 300,000 pieces each year for IKEA stores across the globe, 65 percent of which are sold in Europe.

King Carl XVI and Queen Silvia heard how IKEA has played a key role in empowering JRF's design arm, Jordan River Designs, through monitoring visits, guidance, and training. These steps have helped Jordan River Designs ensure that its products fully meet international standards as well as IKEA's own stringent internal compliance and quality control standards as a certified global IKEA supplier.

"IKEA sets a very good example of how doing good can be good for business," Her Majesty said, explaining that the relationship is not only commercially viable but is also transforming the lives of Jordanian and Syrian women.

She commended IKEA for investing the time to raise JRF's compliance and quality control standards, adding, "because we were empowered, we were able to empower hundreds of women, who then benefited hundreds of families."

Queen Silvia expressed her joy at having the opportunity to meet with IKEA while in Jordan, adding, "I really feel at home."

Queen Rania also thanked IKEA and Sweden for their support of JRF, giving its beneficiaries opportunities they never expected and allowing their products to reach further than they ever dreamed possible.

Earlier on Tuesday, Queen Rania and Princess Rym accompanied Queen Silvia on a tour of the QRFCC, where they saw the center's facilities and a number of ongoing activities aiming to combat child abuse and support victims of gender-based violence.

Queen Silvia congratulated the QRFCC team on their work, explaining that it was "wonderful to see" the center's work with children on child abuse. "It's such a difficult issue, but you are working with them in a very personal, very kind, excellent way," she said.

The QRFCC was established in 2005 as part of JRF's Child Safety Program, which promotes child protection and wellbeing. Located in the Jabal Al Nasr neighborhood, the community-based center offers holistic services to combat child abuse and strengthen the family unit, and has served approximately 63,000 women and children to date.

During their tour of the facilities, Queen Rania and Queen Silvia stopped at "Beit Sgheer," or "My Little Home," a simulated home environment using hands-on activities to teach children and parents the basics of healthy home dynamics.

They also browsed an exhibition of Jordan River Designs products, where they spoke with a number of JRF beneficiaries, and stopped by an art therapy session for survivors of gender-based violence.

JRF is a non-governmental organization established in 1995 with a focus on both child safety and community empowerment.

Chaired by Queen Rania, the foundation provides homegrown solutions to some of Jordan's most pressing challenges, and works to ensure the implementation of child rights and the reinforcement of positive child-rearing methods within families in Jordan.