Queen Rania launches 25th annual Jordan River handicrafts exhibition
26 Oct, 2022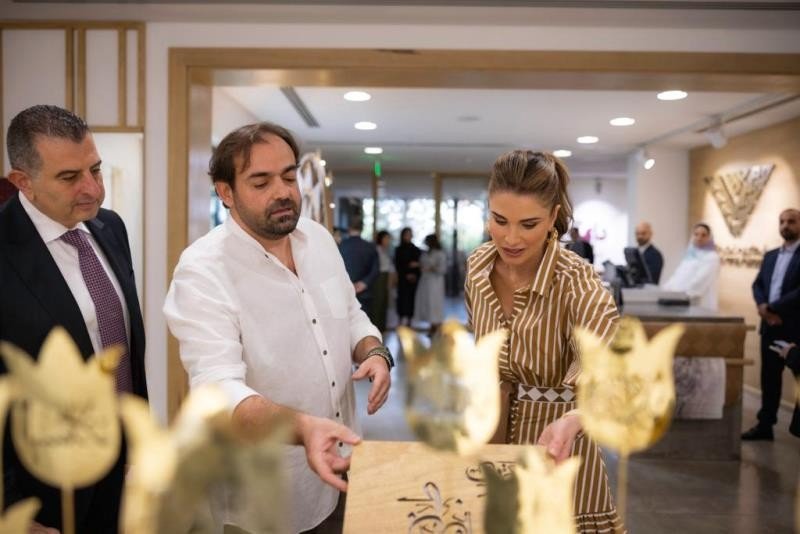 Her Majesty Queen Rania launched the 25th Jordan River Designs handicrafts exhibition on Wednesday, inaugurating a new collection of items handcrafted by women from local communities across the country.
Spanning three floors at the Jordan River Designs showroom in Amman, the exhibition features a wide range of handmade items under the title "Playgrounds", celebrating the traditional and contemporary arts of rural and nomadic Jordan, according to a statement from Her Majesty's office.
To date, Jordan River Foundation (JRF) social enterprise projects have empowered thousands of women and their families, granting them year-round technical and entrepreneurial training through Bani Hamidah Designs, Al Karma Embroidery, and Wadi Al Rayan Designs.
Accompanied by JRF's Director General Enaam Barrishi, Director of Social Enterprises Mahfouz Said, and Senior Designer Faridon Abida, Her Majesty toured the exhibition, viewing this year's selection of traditional home and office accessories, gift items, wall hangings, tapestries, rugs and cushions. A visual adventure celebrating Jordan's rich heritage, the exhibition boasts a number of themed collections titled "Excursions", "Wonderlands" and "Roots".
Inspired by Jordan's striking land and water scenery, rural folklore and the festive spirit of nomadic culture, each collection employs a wide range of techniques, including needlework, embroidery, photography, printmaking, metalwork and banana leaf and halfa basketry.
The Queen concluded her tour of the exhibit with a brief visit to JRF's restaurant, Daimeh, where she mingled with the rest of the attendees. Among them were JRF's Vice Chairman of the Board of Trustees Amin Khleifat, as well as ambassadors and a group of the foundation's partners and donors, according to the statement.
Established in 1995, JRF is a Jordanian non-profit, non-governmental organisation chaired by Her Majesty Queen Rania. The foundation operates the Jordan Child Safety and Jordan River Community Empowerment programs, and aims to help Jordanians realise their full economic potential and overcome social challenges.
Since its inception, JRF has launched numerous socio-economic projects for local women and refugees, providing employment opportunities to enhance their livelihoods, while also focusing on child protection programmes and efforts to tackle abuse.