Queen Rania launches annual handicrafts exhibition
03 Apr, 2019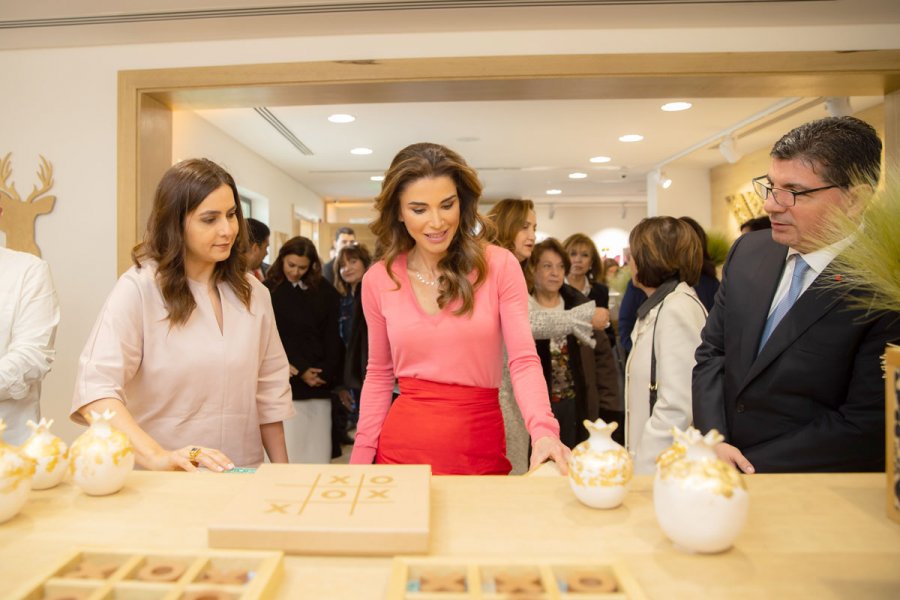 Her Majesty Queen Rania launched the 23rd annual Jordan River Designs handicrafts exhibition, introducing a new collection of items by the Jordan River Foundation (JRF).
Held at the new Jordan River Designs showroom, the exhibition featured a wide range of handmade items celebrating the traditional and contemporary arts of rural and nomadic Jordan, created by female artisans from local communities.
To date, the JRF's social enterprise projects have empowered more than 3,000 women and their families, giving them year-round technical and entrepreneurial training through Bani Hamidah Designs, Al Karma Embroidery and Wadi Al Rayan Designs.
Accompanied by JRF Director General Enaam Barrishi, Queen Rania toured the exhibition viewing this year's collection of home furnishings, gift items, wall hangings, rugs, cushions and fashion accessories.
Drawing inspiration from natural landscapes, Islamic geometric motifs, Arabic calligraphy, the gundelia plant and the ancient city of Petra, the handicrafts incorporated a wide range of techniques, including needlework, embroidery, photography, printmaking and the use of new media.