Queen Rania Views First Handicrafts Collection Produced under JRF and IKEA Partnership
06 Dec, 2017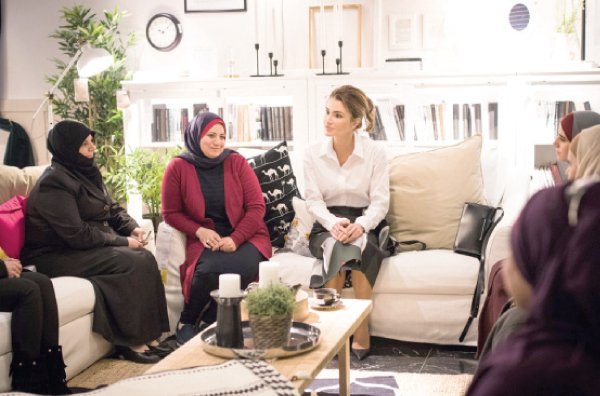 (Office of Her Majesty – Press Department – Amman) - Her Majesty Queen Rania Al Abdullah visited IKEA Jordan on Tuesday to view the multinational furniture group's first Jordanian collection, developed in partnership with the Jordan River Foundation (JRF). The collection, titled 'TILLTALANDE,' was handcrafted by a group of 110 local artisans consisting of Jordanian women and Syrian refugees.
Launched in an effort to provide sustainable livelihoods to underprivileged women in Jordan, the IKEA-JRF collaboration taps into artisans' unique handicraft skills to provide affordable, locally-inspired items. The number of women employed by the project is set to double in 2018, and is projected to reach 400 by the end of 2020.
Her Majesty was welcomed by Partner Development Leader at IKEA of Sweden, Ann-SofieGunnarsson; CEO of IKEA's franchise owner in Kuwait, Morocco, and Jordan, IKEA Al-Homaizi, Marino Maganto; and IKEA Jordan Store Manager, CarstenEbel.
Accompanied by local and international IKEA representatives, as well as JRF Director General, Enaam Barishi, Queen Rania viewed the range of locally produced handcrafted textile items on display, which includes cushion covers, floor cushions, and rugs.
Her Majesty met also with several of the female artisans who produced the collection to discuss the impact the partnership has had on their lives and families. The Queen noted that this collaboration has helped overcome barriers faced in introducing JRF products to new international markets. She also commended the craftswomen's hard work, creativity, and determination to overcome social barriers, which has increased their products' competitiveness on the global stage.