Queen Rania Visits Jordan River Designs Showroom for Update on JRF's Social Enterprises
24 May, 2022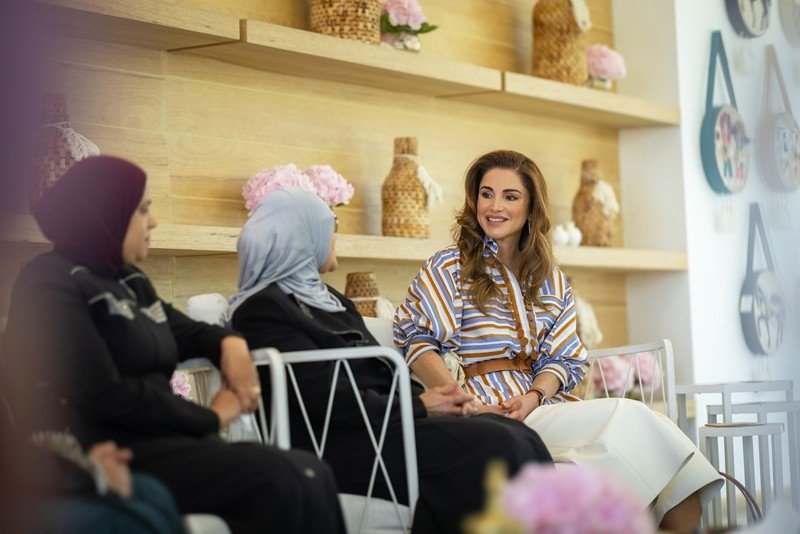 Her Majesty Queen Rania Al Abdullah visited the Jordan River Designs Showroom on Tuesday, where she met with the Jordan River Foundation's (JRF) director general and executive staff members to follow up on the foundation's social enterprises, including the latest Jordan River Designs and Al Karma Kitchen projects.
During her meeting with JRF Director General Enaam Barrishi and other staff members, Her Majesty received a briefing on the achievements and future plans of Jordan River Designs and Al Karma Kitchen, including its efforts to begin exporting food items to regional markets abroad, and expand the number of female beneficiaries employed by these projects.
The Queen also met with women working in Al Karma Kitchen - an empowerment initiative that produces and sells a variety of food items prepared by local community women. The Queen expressed her admiration for the women's hard work as they shared their success stories and the challenges they have met along the way.
"It makes me so happy to hear people say that your food is just as good as homemade food and even better," Her Majesty told the women. "That's just proof that you put your heart into your work!" She added.
The Queen also noted that each beneficiary represents a model of the successful and hardworking Jordanian woman who supports her family and insists on being part of society's fabric of productive women.
"I would like you to be just as proud of yourselves as I am of you, and of everything you do for your families," Her Majesty said. "Your success paves the way for the empowerment of many other women in Jordan," she explained.
Through its series of social enterprises, the Jordan River Foundation hopes to revive traditional cooking and Bedouin-inspired arts and crafts. The foundation currently provides thousands of Jordanian women with livelihoods and a stable source of income, and in 2021 alone it managed to create over 660 employment opportunities through initiatives like Al Karma Kitchen and Jordan River Designs.