UN Foundation Board visits JRF's Community Empowerment & Child Safety Initiatives
30 Apr, 2018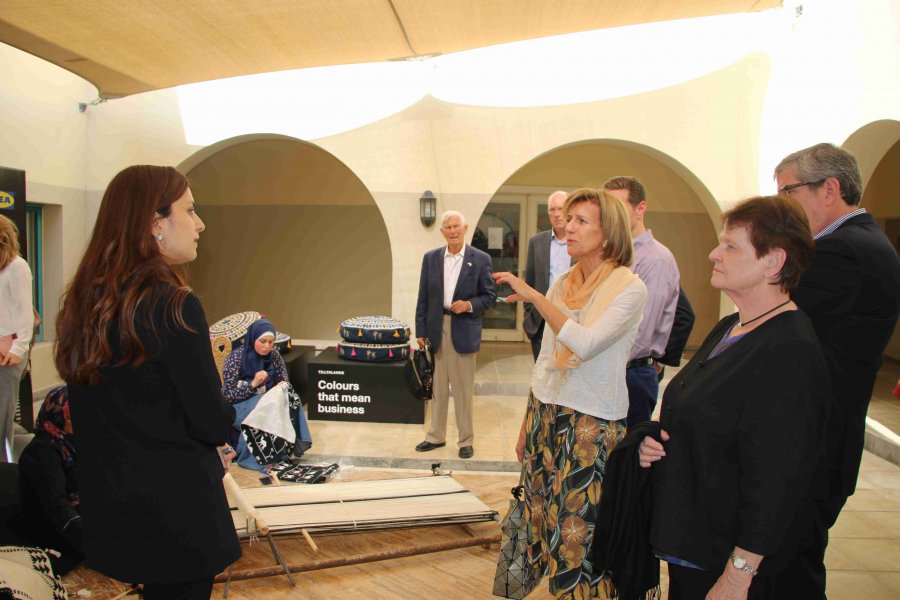 A delegation from the United Nations Foundation's (UNF) board of directors visited the Queen Rania Family and Child Center (QRFCC), where they were introduced to key community empowerment and child safety programs implemented by the Jordan River Foundation (JRF) across the Kingdom. The delegation's visit comes as part of the UNF's bi-annual board meeting, which took place in Amman last week.
During the visit, JRF Director General, Enaam Barrishi, briefed UNF board members on programs, projects, and interventions implemented by the foundation across Jordan's 12 governorates since its establishment by Her Majesty Queen Rania Al Abdullah in 1995.
Barrishi explained how JRF's different stages of development are aligned to address the evolving needs of local communities, with the aim of sustaining and improving their standards of living. She also presented the foundation's future strategy to expand the scope and impact of its programs across local communities, under the guidance of Her Majesty, who serves as Chairperson of JRF.
The delegation was introduced to a number of key child safety activities at QRFCC, including color therapy, which utilizes interactive artistic activities, including sculpture and painting, as tools to help develop positive behaviors and life skills in children. UNF board members were briefed about Beit Zgheer, a socio-spacial initiative aimed at increasing knowledge and awareness of concepts pertaining to protection from child abuse. Beit Zgheer consists of a small house and park overlooking a popular neighborhood, where children learn survival concepts related to traffic safety and dealing with strangers. The initiative focuses on privacy and anonymity to encourage children to discuss sensitive issues related to abuse. It also serves as an educational microcosm that mimics real-life situations and challenges, while also fostering skills related to personal hygiene, personal space, and emotional intelligence. Other QRFCC initiatives include a series of activities in art therapy, sports, and edutainment.
The delegation also stopped at the UNICEF-funded Social Innovation Labs Project, which focuses on leveraging the creativity and 21st century skills of vulnerable Syrian and Jordanian children and youth. As a UNICEF partner organization, JRF equips beneficiaries with the tools to think of innovative ways to serve their communities, and improve their work readiness and employability skills. Members of the UNF board also visited JRF's handicrafts showroom, part of the foundation's Social Enterprises Program, where they were briefed on the various women empowerment initiatives JRF has implemented since its founding.
These initiatives include the recent JRF/IKEA collaboration, which was launched last year to help integrate Syrian refugees and Jordanian women into the workforce through the creation of a series of exquisite handicraft collections reflecting Jordan's tradition and heritage. The JRF/IKEA collaboration aims to sustain social and economic stability across refugee-hosting communities by offering Jordanian women and Syrian refugees jobs to produce handmade carpets and embroidery items that are sold exclusively by IKEA locally and regionally.
"The UN Foundation commends the truly impressive work of the Jordan River Foundation. Through innovative approaches like art therapy for survivors of gender-based violence. The Foundation's staff is committed to restoring hope and promise for the community it serves. It was a privilege to see this work in action," noted Kathy Calvin, UN Foundation President & CEO.